Maps of the UAE for both visitors and residents.
---
Things in UAE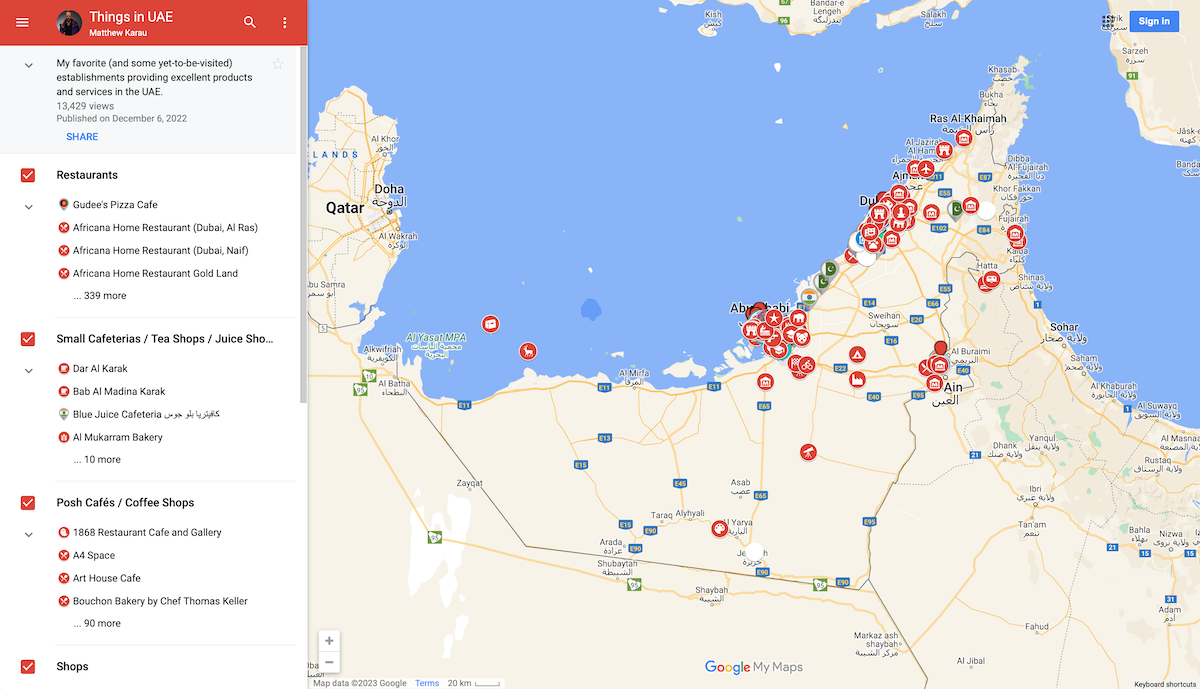 The Things in UAE map, started in 2010, is a collection of places in the UAE that are (or were) interesting parts of the fabric of living in or visiting the UAE. Some are hole-in-the-wall gems; others are obvious tourist attractions, and there has been a concerted effort to fill the gaps between with shops, restaurants, cafes, and experiences that cover the broadest spectrum of experiences in the UAE.
---
Best Street Food in Abu Dhabi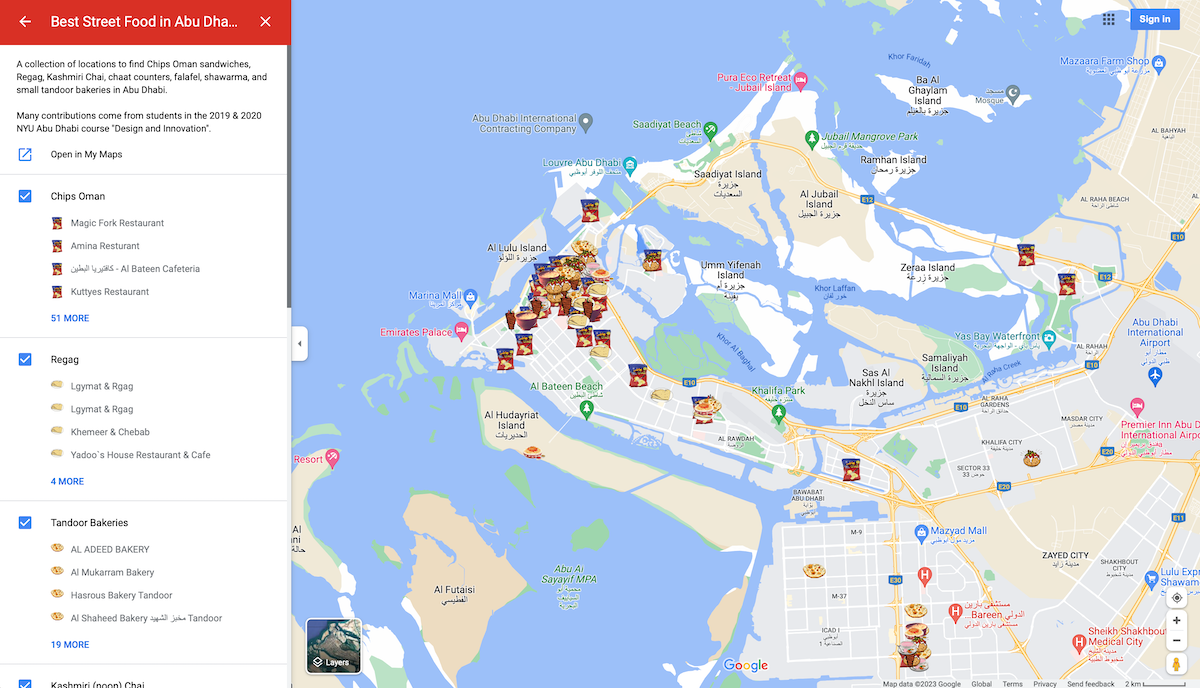 The Best Street Food in Abu Dhabi map, started in 2019, is a collection of places in Abu Dhabi that serve dishes that might be considered street food. As there isn't a "street food" culture in UAE like there is in other countries, the types of restaurants and dishes featured here are those that are "cheap and cheerful" and part of Abu Dhabi's Emergent Culture. The dishes typically orignate somewhere else; they are not "from" the UAE, but they are "of" the UAE and are therefore an unmistakeable and undeniable part of the lived experience in the country. The map focuses on Chips Oman Sandwiches, Regag, Tandoor Bakeries, Kashmiri (noon) Chai, Matka (Tandoori) Chai, Chaat Counters, Biryani, and Koshari.
---
Abu Dhabi Department of Culture and Tourism Urban Treasures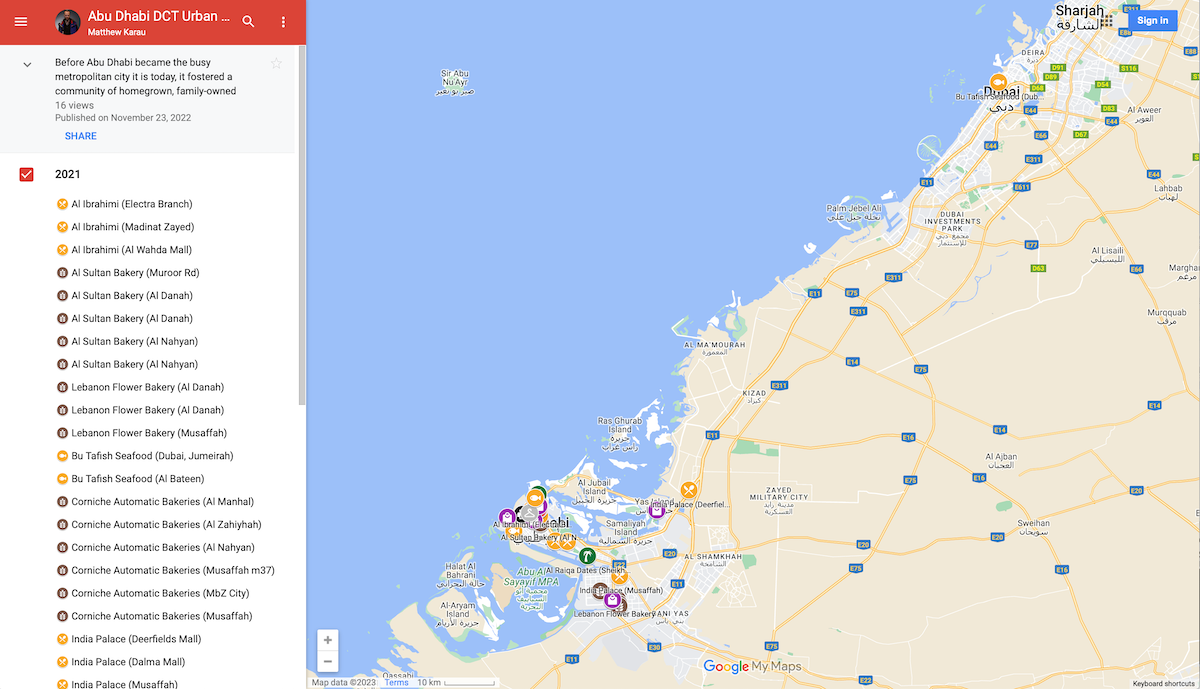 The DCT Urban Treasures map is a visualization of the establishments selected as part of the Urban Treasures initiative by the Abu Dhabi Department of Culture and Tourism.
Before Abu Dhabi became the busy metropolitan city it is today, it fostered a community of homegrown, family-owned businesses such as cafés, restaurants, bakeries, sweet shops, textile stores, that were engrained into the social and cultural fabric of the city.

In recognition of their contribution in the last 20 years, Abu Dhabi is honouring these establishments as Urban Treasures, which continue to serve the current and future generations of our modern city.

These longstanding establishments have played a valuable role in shaping the vibrant urban culture of Abu Dhabi and contributing to the city's economy. Today, these hidden gems are considered historically significant in the collective memory of the local community.
---
Michelin Guide UAE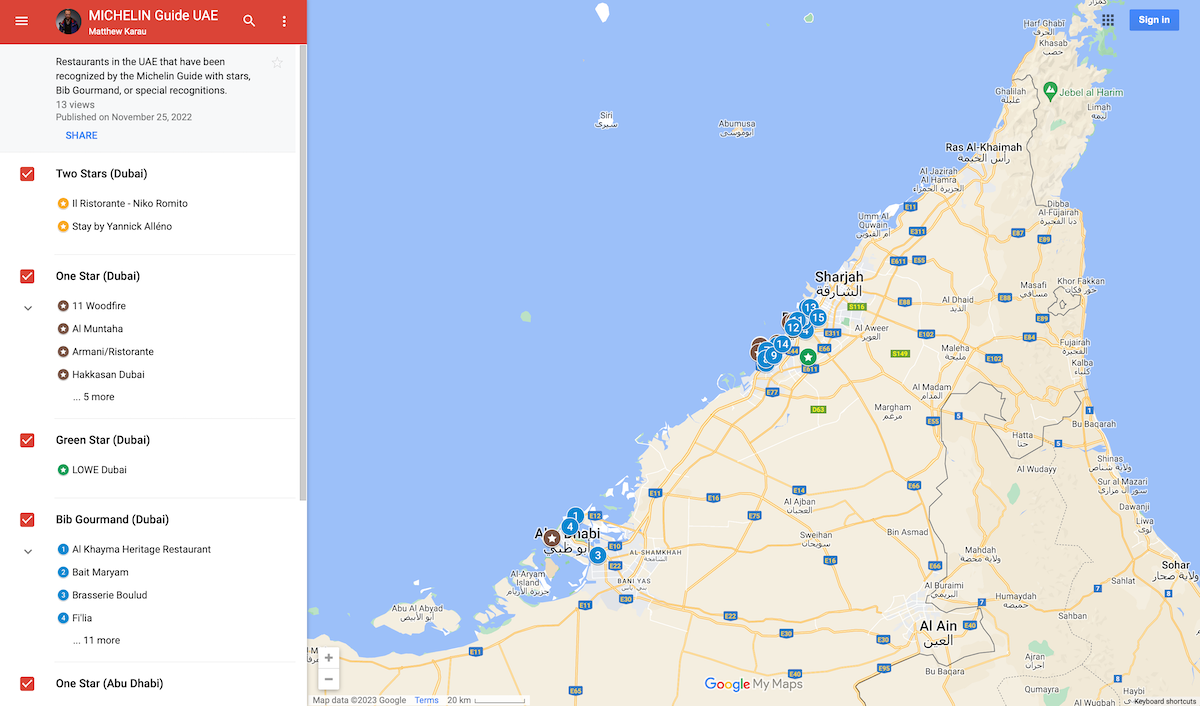 The Michelin Guide UAE map visualizes the restaurants of the UAE that have been recognized by the Michelin Guide with the distinctions of "Bib Gourmand", "1 Star" and "2 Star". The Michelin guide first began reviewing restaurants in Dubai and Abu Dhabi in 2022.
---
3D Maps of NYUAD Campus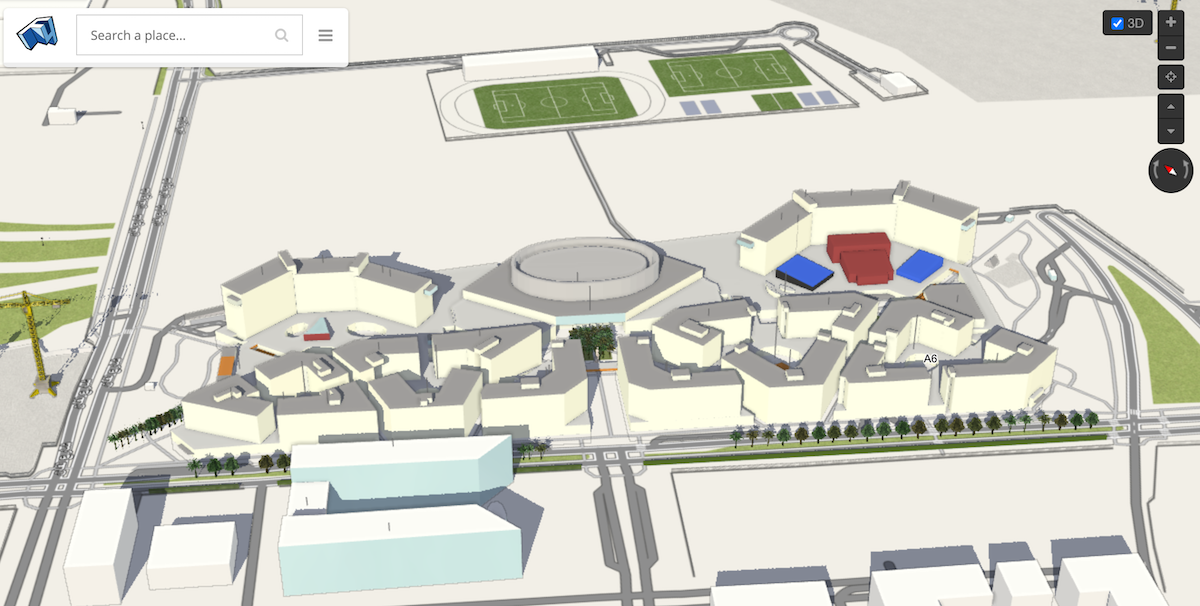 There are a number of online services that use OpenStreetMap data to reconstruct 3D representations of buildings. As early as 2014, Matthew Karau and others began encoding data about the buildings of the NYU Abu Dhabi Saadiyat Island Campus into OpenStreetMap, eventually creating a rudamentary but relatively complete model of the campus. You can view a very high-fidelity rendering of campus using the F4Maps Demo Interface. You can also view the campus in 3D using OSM Buildings. (Note: OSMBuildings seems to block some geographies from using its services, including the UAE, at times). If your curious about all the ways the OpenStreetMaps data can be used in 3D environments, be sure to check out their Wiki Page dedicated to viewing the map in 3D. If you're interested in using the 3D data in other programs, explore using the OSM2World, Blender GIS or blender-osm tools that provide pathways to export data in common 3D interchange formats (OBJ, STL, etc).
---
Public Transportation Networks in UAE (Work in Progress)
Although Public Transportation is not, as of 2023, a common mode of conveyance in the UAE, the networks and coverage have slowly grown and become more enticing. Other commercial map providers have only rudimentary data about the Abu Dhabi transportation system, so it's helpful to add route details to OpenStreetMaps to ensure a full coverage is available for use in other commercial and non-commercial aplications. By default, OpenStreetMaps does not render public transportation information; however, you can view routes by selecting to view the Transport Map Layer or the OPNVKarte Layer. As of writing, there is not a default routing tool built into the OpenStreetMaps Public Transportation ecosystem to allow for easy trip planning. As of writing, only two bus lines, 161 and 170 have been added to OpenStreetMaps; any and all support and contributions towards adding all bus lines is welcomed and appreciated. Data about Abu Dhabi bus routes can be found online.