Below are a few maps of the UAE that may be of interest to those visting or living in the Emirates.
---
Things in UAE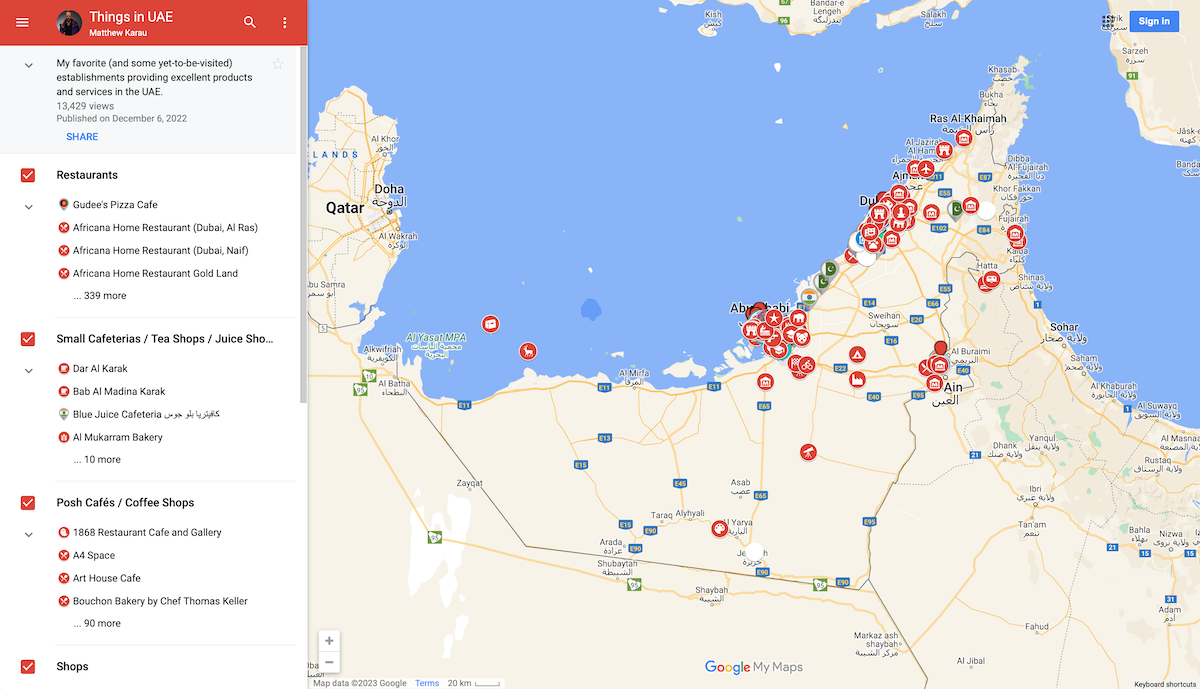 The Things in UAE map, started in 2010, is a collection of places in the UAE that are (or were) interesting parts of the fabric of living in or visiting the UAE. Some are hole-in-the-wall gems; others are obvious tourist attractions, and there has been a concerted effort to fill the gaps between with shops, restaurants, cafes, and experiences that cover the broadest spectrum of experiences in the UAE.
---
Best Street Food in Abu Dhabi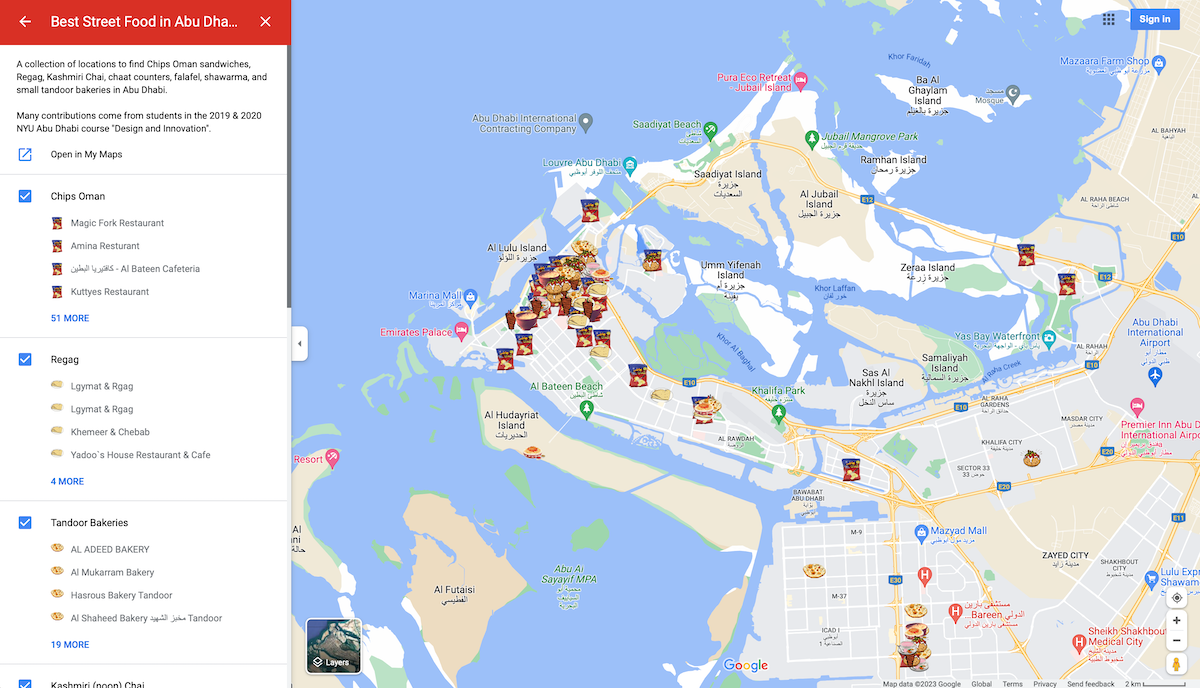 The Best Street Food in Abu Dhabi map, started in 2019, is a collection of places in Abu Dhabi that serve dishes that might be considered street food. As there isn't a "street food" culture in UAE like there is in other countries, the types of restaurants and dishes featured here are those that are "cheap and cheerful" and part of Abu Dhabi's Emergent Culture. The dishes typically orignate somewhere else; they are not "from" the UAE, but they are "of" the UAE and are therefore an unmistakeable and undeniable part of the lived experience in the country. The map focuses on Chips Oman Sandwiches, Regag, Tandoor Bakeries, Kashnmiri (noon) Chai, Matka (Tandoori) Chai, Chaat Counters, Biryani, and Koshari.
---
Abu Dhabi Department of Culture and Tourism Urban Treasures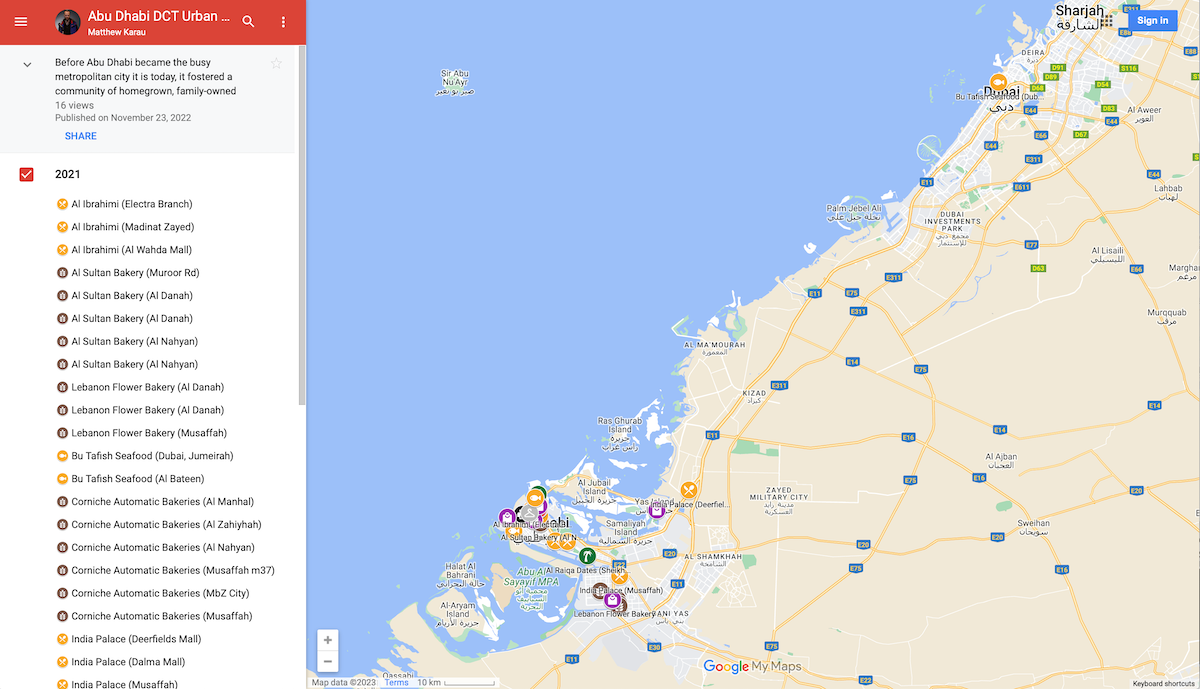 The DCT Urban Treasures map is a visualization of the establishments selected as part of the Urban Treasures initiative by the Abu Dhabi Department of Culture and Tourism.
Before Abu Dhabi became the busy metropolitan city it is today, it fostered a community of homegrown, family-owned businesses such as cafés, restaurants, bakeries, sweet shops, textile stores, that were engrained into the social and cultural fabric of the city.

In recognition of their contribution in the last 20 years, Abu Dhabi is honouring these establishments as Urban Treasures, which continue to serve the current and future generations of our modern city.

These longstanding establishments have played a valuable role in shaping the vibrant urban culture of Abu Dhabi and contributing to the city's economy. Today, these hidden gems are considered historically significant in the collective memory of the local community.
---
Michelin Guide UAE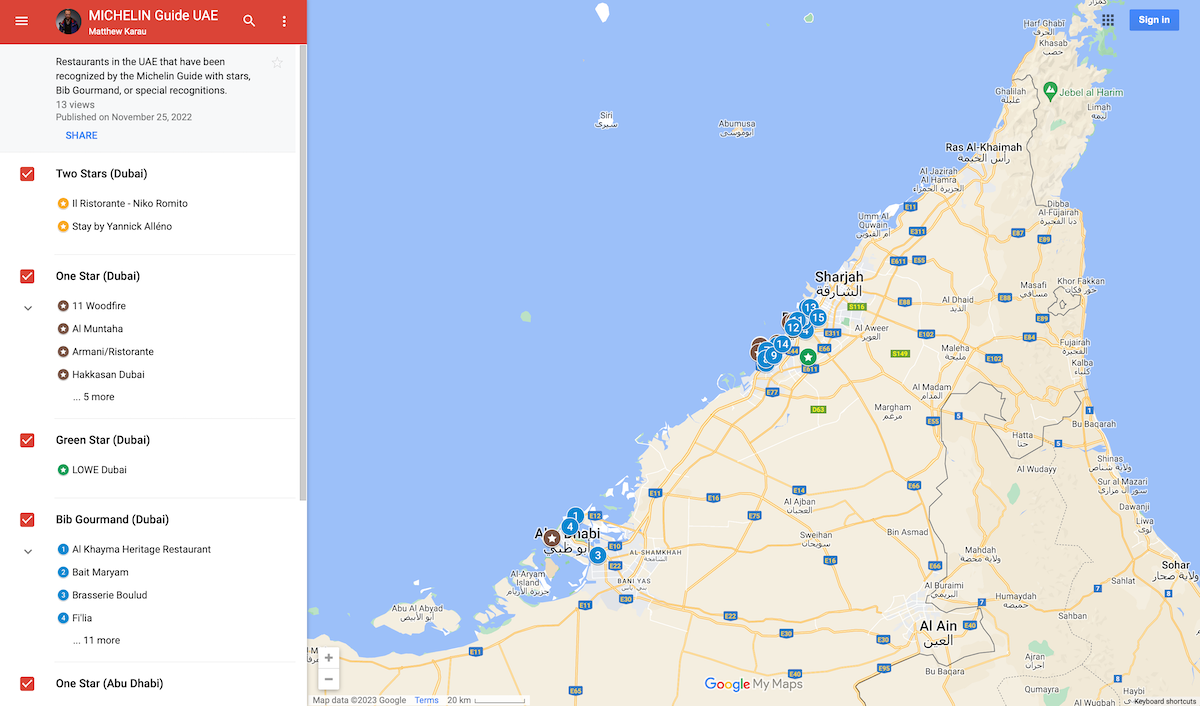 The Michelin Guide UAE map visualizes the restaurants of the UAE that have been recognized by the Michelin Guide with the distinctions of "Bib Gourmand", "1 Star" and "2 Star". The Michelin guide first began reviewing restaurants in Dubai and Abu Dhabi in 2022.